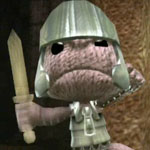 Little Big Planet's biggest and most important feature, multiplayer online co-op level creation, will not be available at launch, and there's no telling when it will be available.
The game's developers, Media Molecule, state that it will be included in the game's "first major update" after release, without saying when we can expect the patch.
Not entirely unexpected are the (small) hordes of PS3 fanboys claiming that this is "Understandable", with some of the more brain-dead members of the bunch actually claiming that it's a good idea.
I can't get my head around that. How far up a company's ass do you have to be to actually praise them for not including much-desired functionality?
I'm tempted to simply not buy the game until the patch is released, but god dammit, despite all my outrage the game will still be great. Just not right away.