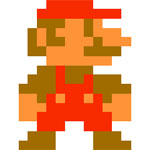 Kids today are growing up wrong. They don't remember the weight of a Nintendo Gameboy. They don't remember that underwater level in Mario where you were in a submarine and there was an octopus boss. They don't remember when games were played on green LCD screens, and the only color they were capable of displaying was black.
Their games never came on cartridges. To the children of today, a Gameboy is "something old people played".
Just recently, my young cousin didn't know what a Sega Genesis was. He asked "Is that what they used to play in the olden days?"
It's bad enough when kids grow up not knowing who we fought in World War 1, but to grow up not knowing that there were once only 151 Pokémon? This is a terrifying notion.
They need to teach this shit in schools.
I fear I must take it upon myself to maintain the glorious past of my hobby and passion. If I have to, I will even kidnap children and hold them against their will in a facility until they can pass a test.
Fill in the blank! Sorry, Mario! Our princess is ____________
Who was the 151st Pokémon?
How many points is the UFO worth in Space Invaders?
SING THE TETRIS MUSIC WHILE I WHIP YOU REPEATEDLY AND MAKE YOU RUN LAPS.
If this is what must be done, then so be it.