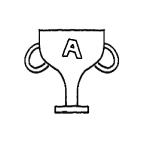 Alright so I figured I had to post SOMETHING else before the end of the year. Which is a great feeling, feeling obligated to do a thing nobody gives a shit about just because. No good reason. Anyway, here it goes.
Didn't Release This Year Award
Winner: Disco Elysium
Clever, dark and introspective in just the right amounts to fall short of being pretentious. Thoroughly enjoyable experience that left a lasting impression.
Dishonorable Mention: Hades
Took The Entire First Quarter Of My Year Award
Winner: Elden Ring
Look I still think Demon's Souls is the best one by a mile but I'm not gonna talk much shit about a game that gave me 300 hours of invested time that I enjoyed every moment of.
Dishonorable Mention: Ain't nothing else absorbed my time like this
Speaking of Which Award
Winner: Demon's Souls Remake
What else came out in completely different years that I can give 2022 awards to? Anyway, it was really good to have an excuse to play this game again. I replayed the original and then the remake pretty much back to back. The remake provides some good quality of life changes while still maintaining a few fun quirks from the original.
Dishonorable Mention: Demon's Souls (OG)
Shepton Plays Another Old Game and Includes it in the SA Awards Award
Winner: Nightshade
This game was a lot of fun. Weird, often esoteric in that way that classic adventure games always were, but with a really cool visual style and setting. It knew it was clichéd as fuck and leaned into it, though the writing and humor were often TOO self aware to the point of reaching cringey levels.
Dishonorable Mention: Ristar. s'pretty good.
Fucking Shit I'm Playing a Mobile Game They Finally Got Me God Dammit Award
Winner: Marvel Snap
It's actually really fucking good and fun. And the paid elements are cosmetic with a randomized system of obtaining new cards that can't really be made easier by just buying currency, so the actual competitive side isn't ruined by whales. I've entirely ignored all paid aspects of the game and it's been completely fine. As for the game itself – the location mechanic and random order in which you draw cards also ensures a huge amount of variety which keeps the gameplay fresh and forces you to think on your feet and adapt constantly.
Dishonorable Mention: The PSP emulator I have on my phone because it's the only other game app on here
Anyway that's enough. You want more, go bug Renegade or something. He'll only mind quite a lot. I've got more shit planned to write soon – I'm gonna get one of those really good premium upscaling devices soon, the kind that actually work really well and have no latency. The OSSC most likely, but maybe a Retrotink. We'll see once I'm done with my research. But definitely expect me to write about that once I have it.