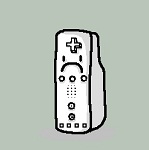 Time to think about dusting off your Wii's, ladies and gentlemen, because a variety of websites around the internet are talking about Capcom USA's Chris Kramer having mentioned the following in regards to the subscription fee assosciated with Monster Hunter Tri:
It's something that we're looking into at the moment and there are a few factors to consider. Firstly, Monster Hunter isn't as popular in the West, so it might put people off. Secondly, Japan doesn't have Friend Codes, so Capcom run all the servers and the monthly fee is essentially to pay for those costs.
With any luck this will mean the possibility of a hardcore multiplayer online experience for the Wii, which will remind western audiences of the glory days of Phantasy Star Online: Episodes 1 & 2 for Gamecube. Having sold over 500,000 copies in its first day alone in Japan, and receiving a perfect 40/40 score in Famitsu, Capcom rushed to announce a US and EU release a mere 2 days after it hit. Hopefully we should be seeing this by spring of 2010.